"FAM - FUERZAS MILITARES DEL MUNDO" (World Military Forces) is a military international magazine in Spanish.
Nowadays, FAM is the leading defense and security publication in Spain, Portugal and all Latin America + USA.

FAM - Fuerzas Militares del Mundo is distributed in many Spanish and Portuguese language countries with more than 15.000 copies. Our magazine is present in the main defense and aeronautics international fairs like Farnborough, Eurosatory, FIDAE, DSA, Paris International
Airshow, DSEI, etc…

Otherwise, FAM is the media sponsor in many events like seminars and conferences, working with World known organizations like IDGA (Institute for Defense and Government Advancement)of the United States or Defence IQ in United Kingdom, or ABE.

FAM - Fuerzas Militares del Mundo has been chosen by the most important World defense companies as publicity and information media to present its products, with so important names like Lockheed Martin, General Dynamics, Sikorsky, Thales, Eurofighter, Airbus Military…
Do not hesitate to contact with us for whatever information about how give to know your security and defense products; more than ten years of experience support us. Ask for our Media Kit.


Phone: (34) 628 705 127
Fax: (34) 91 469 57 65
E- mail: editorial@ikonospress.com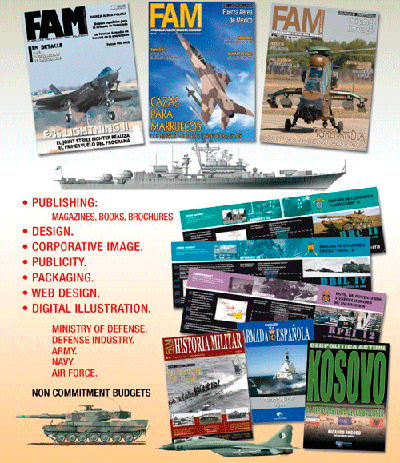 Ikonos Press es una empresa editorial especializada en comunicación de defensa. Realiza actividades de edición con revistas actualidad militar como FAM-Fuerzas Militares del Mundo, o de historia militar como FAM-Historia Militar.

Ha publicado numerosos libros sobre temas navales, estratégicos, de campañas y de actualidad política. Ha realizado trabajos de comunicación para el Ejército, Armada y Ejército del Aire de España, así como colaboraciones con importantes empresas de defensa de todo el mundo.

En Ikonos Press contamos con un estudio de diseño gráfico donde podemos realizar todo tipo de publicaciones, folletos (dípticos, trípticos…), catálogos de productos y cualquier tipo de material impreso específico que el cliente desee realizar. Pídanos presupuesto sin compromiso.
Aptdo 62.132 - 28080 Madrid- España
Teléfono: (34) 628 705 127
Fax: (34) 91 469 57 65
E- mail: editorial@ikonospress.com
---